Executive Board Elections 2020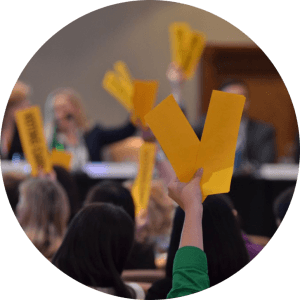 Board Election 2020
In March 2020 the assembled membership will again have the opportunity to elect a board member to represent the au pair industry on the IAPA Executive Board. The Executive Board elections will take place at the IAPA Annual General Meeting in Lisbon on Thursday, 24 September 2020 .
This year we invite nominations/candidacies for the following board position:
Board Member – term: 2020 – 2023 (three-year term)
with all candidates from Full IAPA member organisations (voting and non-voting) eligible to submit their candidacy.
Find out more about the responsibilities of being an IAPA Executive Board Member:
To run for one of the above Board position simply follow these steps and feel free to email us with any questions:
Step 1 – Ask two other Full IAPA member organisations to support your candidacy
You will need to include the names and email addresses on your candidacy form, and emails will be sent out to these supporters automatically upon submission of your candidacy form
Step 2 – Submit your candidacy! 
Download and complete our candidacy form and send us a high resolution picture as well as your company's logo by e-mail to patricia.brunner@iapa.org
Step 3
 –
 Your two supporting members need to reconfirm their support of your candidacy
Step 4 – Prepare a short (max. three minutes) presentation
You will introduce yourself as a potential Board member to the assembled membership community at the IAPA Annual General Meeting taking place during WETM-IAC at WYSTC 2020 in Lisbon.
Questions? Please contact us!